Personal Equipment
The equipment one chooses to use is a personal decision and usually the result of trial and error over a period of time. Most archers I know try a variety of things, this is part of the fun of the sport. I do not experiment with equipment nearly as much as I once did. Having found what works well for me quite some time ago, my archery gear varies very little from one year to the next. When something needs replacing I will usually look at different things that have become available but, for the most part, I leave well enough alone and stay with what I am comfortable with, with what I have confidence in, and what I know works.

---
BOWS
My two favorite hunting bows, and the ones I most often take to the woods with me, are a couple of 25 year old Hill Big 5's. Both are 70", one (Ole Reliable) pulling 70# and the second (Junior) pulling 66#. I have many bows in my collection of different makes and design, as well as a few I have made myself,and I shoot them all. Each have their advantages and disadvantages, but I have yet to find a bow that does a better job for me than these old Big 5's. The newer Hill bows being built by Craig Ekin are actually better made, shoot very nice, and I do own a couple of these bows. However, when it comes time to head to the woods I find myself reaching for "Ole Reliable" much the same way you would invite a good friend along on a special trip rather than a new aquaintence.


"Junior" and "Ole Reliable"
---
QUIVERS
Many archers find choosing a quiver to be the most difficult piece of equipment to select. I do not believe the perfect quiver has yet been invented. However, for all around versatility the single strap shoulder quiver comes close. The trick to using these quivers effectively is to properly make and correctly adjust them, and then to practice using them. If properly made and adjusted, they hold a large supply of assorted arrows quietly, and arrows can be extracted very quickly. I would recommend when making these quivers to lace rather than stitch. Although stitched quivers are very attractive, repairing them and adjusting them can be difficult. A good heavy latigo leather shoulder quiver will last a life time with proper care and usually the only repair ever needed is to occasionally replace the lacing. In addition to the shoulder quiver, I use a single arrow broadhead hood and rubber arrow clamp attached to my bow to carry that first shot arrow. The two compliment one another very nicely.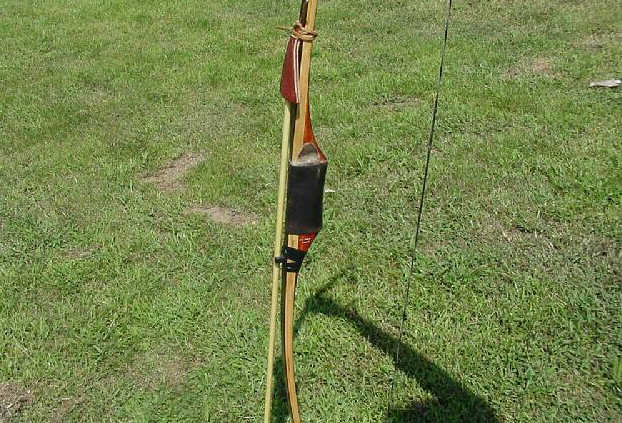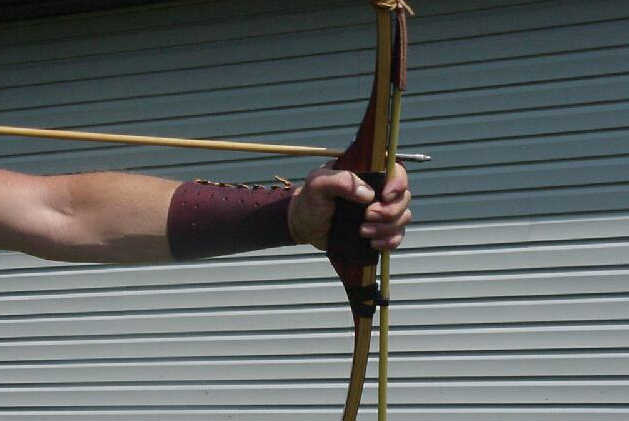 ---
Broadheads
The broadhead is the most important piece of equipment the hunting archer takes to the field with him. Afterall, it is the broadhead that does the actual work, the bow and arrow being but delivery systems for the hunting head. Two of the most critical attributes of a properly designed head are their ability to give accurate flight in all hunting conditions and to give maximum penetration. Other qualities that should be considered are quality and temper of metal, ease of sharpening in the field, durablity, and ease of removing and replacing arrow in hunting quiver. There are many excellent broadheads available today but it has been my experience that the original Hill design best satisfies all of the mentioned attributes necessary for maximum performance. I am convinced that the concave blade provides the most efficient cutting shape. Couple a concave blade with a properly file sharpened edge and you have a broadhead unequalled in any other design. The two broadheads I use that fit these parameters are the Hill head and a slightly modified 190 grain Ribtek head.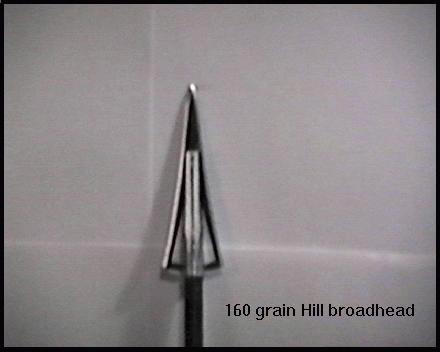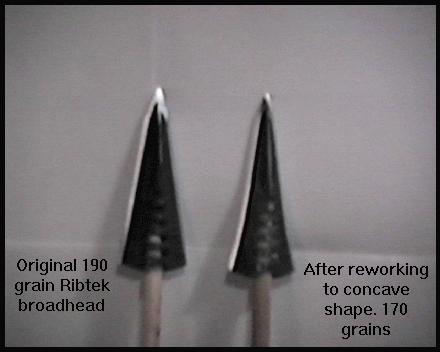 ---